Finally! I was able to redirect my free WordPress.com account to my WordPress.org account! I'm just so happy that I'm able to do it. So if anybody who'll type my previous blog (http://edcel.wordpress.com), it will be redirected to this site (http://edcel.net). It saves me the hassle of having to go through a lot of things just to update. Of course, if you want to get something here, it usually comes with a price. And for this, I spent around 10 bucks just to connect the two blogs. But I'm glad anyway because it makes my life a lot less complicated when it comes to updating and informing people about this new link.
In order for me to arrive at this stage, I simply searched for topics in google and stumbled upon this page: WordPress.com to WordPress.org. The link has a pdf file which talks about how to redirect your free wordpress blog to your hosted WordPress account. In any case, here's the pdf file.
But it wasn't that smooth sailing for me because the pdf file discussed the process if your domain registrar (where you got your domain) is godaddy.com. As for me, godaddy isn't where I got the edcel.net domain, because this domain came with the package I bought through my host which is 3ix.com. I tried looking for the settings in my control panel where I could change the nameserver. to the ones provided by WordPress.
As you might wonder what I'm talking about, one of the requirements for you to be able to add your domain is you have to change the name of your DNS to: NS1.WORDPRESS.COM, NS2.WORDPRESS.COM and NS3.WORDPRESS.COM. The image below shows the error message I got when I tried to do that.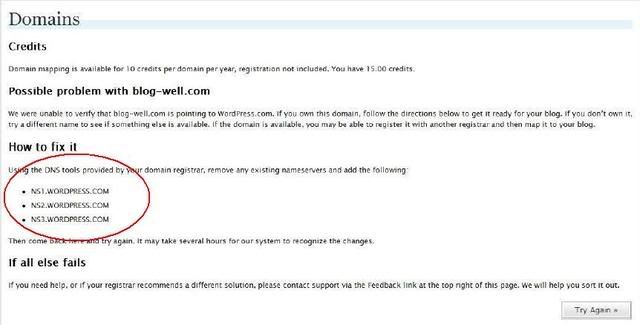 So I contacted the technical support of my host (3ix.com) and informed them about my issue. Since this is where I bought the name of this site, I asked them where I could change the nameserver. It turned out that my hosted blog's Domain Name Server's settings is from the backend which means I couldn't configure it, they are the only ones who can access it. I gave them permission to change my default DNS to that of the ones indicated by WordPress, and voila! it's almost fixed!
There was only one thing for me to do to get rid of that error. That is to buy credits from WordPress because you would have to pay for the service for redirecting. So I paid around 10 bucks using paypal and then followed the rest of the instructions of that pdf file. By the way, the redirecting service is good for one year which proves that the amount is really cheap.
Afterwards, I tried checking my site and typed my free WordPress.com blog, and it redirected me to my domain which is edcel.net! At least with this, I won't have a hard time informing other people to update their links as it will just redirect to my site. Sigh, I'm not much of a technical person, but I'm glad I was able to figure this out with the help of good people out there.